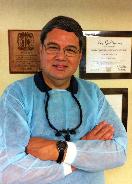 Dr. Nunez was born and raised in Bakersfield, attending local schools. A 1981 graduate of Loma Linda University, School of Dentistry, he has maintained a Comprehensive General Dental practice in this hometown where he provides restorative, cosmetic and preventative treatment for all ages and strives to stay current with the latest in dental care and treatment.
Dedicated to serving the dental needs of his community, Dr. Nunez has also committed himself to the leadership roles of several dental organizations. He has served as President of Kern County Dental Society and has been a Trustee and member of the Council on Membership to the California Dental Association. Professional memberships include: Kern County Dental Society, California Dental Association, American Dental Association and The Pierre Fauchard Academy.
Community involvement includes over 25 years in the Bakersfield Breakfast Rotary Club and member in the Walter Stiern Library Associates.
Aside from work, Dr. Nunez enjoys travel, gardening and officiating High School football. He has been a referee for over 25 years and has achieved recognition to work five CIF Sectional Finals.
He has a lovely wife, Wendy, who he has been married to for 24 years and a beautiful daughter, Ann-Marie.
Joseph M. Nunez, DDS
1957 19th Street
Bakersfield, CA 93301
661-325-6907